Most of the time when we post blogs, they are a collabrative effort between myself, Michael Anthony, and David Ryan.  For the purposes of this post, when I refer to "I" or "me," I am talking about Michael Anthony.
Backstory:
On June 11th. 2010, an event took place that altered the lives of all of my family members.  My brother-in-law, Thomas P. Coleman, married to my sister, was a California Highway Patrol motorcycle officer.  At 6:30 AM, he attempted to stop a vehicle with four occupants in it, that had committed multiple traffic violations.  The vehicle failed to stop and increased speed in order to evade Officer Coleman, and naturally, a vehicle pursuit ensued.  While chasing the suspects through an intersection at very high speeds, an 18 wheel semi-truck failed to hear the sirens coming from Officer Coleman's motorcycle, and proceeded through the intersection.  Officer Coleman was unable to stop and collided head on with the truck.  Tom received fatal injuries as a result of the crash and died instantly.  This is a picture of Tom.
In that very moment, a family had been ripped apart.  My sister, married to Tom for 5 years, was now a widow, and my niece and nephew, 9 months and 2 1/2 years at the time respectively, were left without a father.  Here is a picture of them:
Thankfully, law enforcement is a family, and in being so, there has been an amazing support system for my sister and her kids.  Every year there is an event, sponsored by the C.O.P.S foundation (Concerns of Police Survivors) that takes place at the National Law Enforcement Memorial in Washington D.C. to honor those who gave the ultimate sacrifice to protect us.  This is an artistic rendition of the memorial: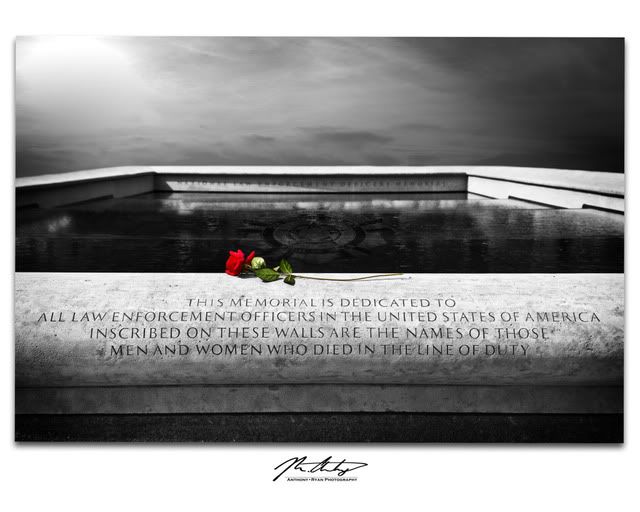 During National Police week in 2011, which took place the week of May 15th, I traveled to Washington D.C. in order to watch Tom be honored along with 162 other brave officers who lost their lives.  While there, I met many grieving families, and witnessed how remarkable these people were.  We arrived in DC on the 12th, and immediately visited the Memorial wall.  This wall in a monument that was developed in 1991 and features two curved 304 foot walls with the name of every known fallen police officer in the history of the United States.  They have police historians that actively research officers that had been overlooked in history.  When discovered, they add their name to the wall as well.  This year they added over 300 new officers, even though only 162 had died in 2010.
We immediately made our way to Tom's memorial on panel 16-E, and discovered his name on line 27.  Here are a few shots from the wall, as well as his memorial.
This is a shot of the beautiful memorial left for Tom at his panel: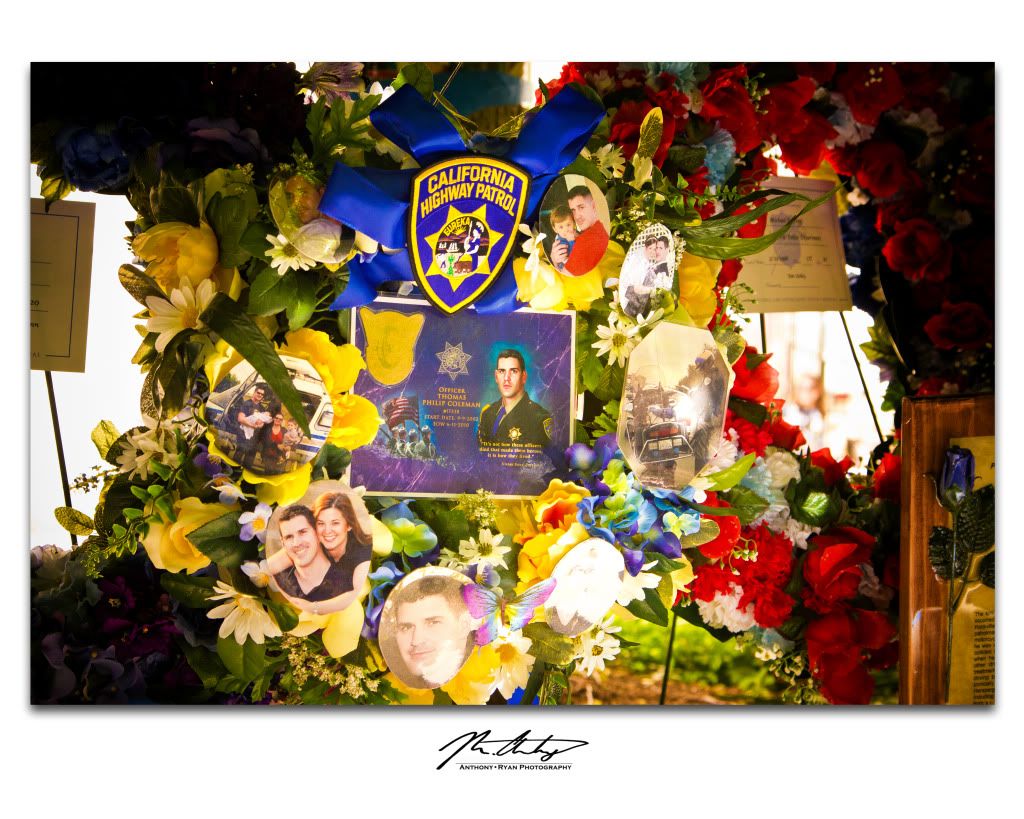 After that, we headed back to our respective hotels to get settled in for our trip.  I was staying at the Westin in Alexandria, VA.  It was a really nice hotel and most importantly it had a mini-bar.  That concluded day one of our trip.  My next post will give some photos from the amazing 23rd annual candlelight vigil in memorial of those who had died.  Stay tuned.