I am happy to announce that we will be having a photography tips and tutorials section on this blog.  The way it will work is that I will pick a topic every week that I think could help our viewers out in the realm of beginner photography, this might have to do with lighting, camera settings, or editing.  I will then expand on that topic in hopes of helping you take better pictures.  Our first tip is going to deal with the number one factor, that will have the quickest impact on the photos that you take.  Composition.
What do I mean by that?  We will get to that in a minute.
The most expensive camera equipment will help, but if you do not know the way to set up your photos, you are missing out on a great opportunity every time you push the shutter button.  Thankfully,  history has developed a set of  "rules" that can instantaneously make your images stand out.
It is very easy to follow some of these rules, and it has an immediate positive effect on your images.  Composition basically means the way that things are arranged within your picture and frame.  There are different aspects that impact your composition, background being one, distance to your subject being the other.  Taking all of those into account, there is one rule that you can apply to all of your images that will instantly make them stand out.  It is called the "Rule of thirds."
Think of the frame to have a giant modified tic-tac-toe grid within it, similar to this:

Your goal should be to place the focal point of your subject (most of the time the closest eye) into one of the intersecting points of the grid.  When most people take a picture, they will center there subject, spot in the middle of the frame.  Take a look at this image below: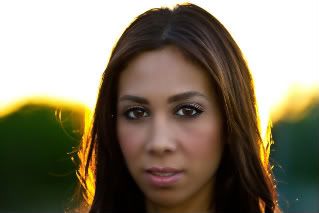 Now just a small change can make a large difference in the way the picture turns out.  Now take a look at this one: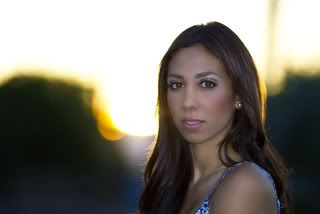 You see how a quick shift of the subject along one of the thirds of the picture created a dramatic impact on the overall image?  Changing this one aspect will make a very large impact on your photos.   Just remember that most of the time you want your subject facing toward the center of the frame, rather then to the immediate outside edge.
Just remember to always be aware of your background when looking for ways to apply these techniques.
One more technique that I want to talk about is filling your frame with your subject.  Remember that seldom does it apply that you can get too close to your subject.  Make sure that you fill your frame as much as you can with your subject, without cutting off important pieces of them (i.e. bottom of chin).  Take a look below to see what I mean.
That about wraps up this post, if you guys have questions or anything that you want me to discuss, please email me at Michael@AnthonyRyanPhoto.com.
Please visit our website Santa Clarita Photographer – www.AnthonyRyanPhoto.com